Weekly Group Classes and Private Session Opportunities
Live Streaming Group Classes

To stay healthy and safe, all of my classes are temporarily being offered via Zoom. Please know, you get the same attention to the heart of the practice, optimal alignment, and right action as in my studio classes.
Sunday
10 a.m. — Hatha Yoga & Meditation (60 minutes)
A special one-hour Sunday morning session of grounding, opening, and guided meditation, offered through Urban Yoga, via Zoom.
Register at Urban Yoga: urbanyogafw.com.


Tuesday
5:30 p.m. — Hatha Yoga (60 minutes)
A one-hour Hatha class directly with me, via Zoom.
Your contribution is your cost of this class, amid all of this ongoing COVID-19 wackiness and turmoil (PayPal, Venmo, or check).
Contact me directly to register and arrange the payment you feel is appropriate: louchapman@sbcglobal.net or 817.917.0417 (text or call).

Wednesday
6 p.m. — Hatha Yoga (75 minutes)
A 75-minute full-spectrum evening session with a fresh focus each week, offered through Urban Yoga, via ZOOM.
Register at Urban Yoga: urbanyogafw.com.
Online Private Sessions

I'm pleased to offer private sessions upon request for individuals and groups for yoga training, therapeutics, yoga teacher support, and meditation. These will be via Zoom during the ongoing COVID-19 health precautions.
Give me a call or text me at 817.817.9417, or email me at louchapman@sbcglobal.net.
This was my group class schedule before COVID-19 sent most of us home. Please check back to see what my in-studio schedule is when I return to Urban Yoga and Colonial Country Club. Stay safe!
Monday
6:30-7:30 p.m. @
Urban Yoga
5:30 p.m. @Colonial Country Club (membership required)
6:30-7:30 p.m. @
Urban Yoga
9-10:15 a.m. @Colonial Country Club (membership required)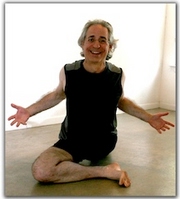 Please scroll down for information on
fees
,
private
and
therapeutic
yoga

, and other details.


---
Private Classes, Therapeutic Yoga, Teacher Support and Meditation
In-Person or Online: All of my private classes whether for individuals or groups are available at your home, online, or (depending on the size of the group) at Urban Yoga (when the studio reopens after the COVID-19 restrictions are lifted and it's safe to start again).
For online practice or therapeutics, all you need is Internet access and Zoom. Contact me for information.


Private Instruction. I help students from beginners to advanced yogis - as well as athletes and non-athletes of any ability or skill level - gain confidence, strength, flexibility and open-heartedness as we work to take you deeper into your unique practice, improve your game and relieve stress. Or to simply apply the benefits of yoga in any way you feel is most beneficial to you in your life.
I apply the elegant biomechanical principles and inspiring intentions of Anusara Yoga as well as other systems to work with yoga practitioners of any level, athletes and non-athletes with any limitations, challenges or desires to deepen, broaden and feel more comfortable in their yoga practice, improve their game or sport, and live life more fully.
Therapeutic Yoga. I work with you to help you recover from injury, surgery, trauma, or stress-related or immune system disorder to help you regain control of your body and develop an inner awareness of your optimal blueprint in each moment, supporting you as a client along your journey. Yoga Therapeutics is an artful and uplifting blend of Anusara Yoga®, restorative yoga, breath techniques and other healing modalities to connect with the body's innate intelligence and healing ability. It re-engages the body's natural healing mechanisms.
Yoga Therapeutics sessions are followed up with illustrated handouts and specific instructions to support healing at work, home and play. Individualized therapeutic programs can be developed.
A 45-minute online session for private or therapeutic yoga is $50 (discounted rates are an option for two or more sessions purchased in advance).

For information about private practices individually or in a small group, for therapeutic yoga, ZOOM sessions or workshops, please contact me.

JulieHannan22minute sequence - 3:11:16, 9.27 PM.mp3